So on occasion I post my Can't Wait Wednesday reads but I figured I'd go ahead and curate a list of books that I'm dying for in 2019! My Goodreads goal it set and I'm READY! Without further ado...
Serenity is good at keeping secrets, and she's got a whole lifetime's worth of them. Her mother is dead, her father is gone, and starting life over at her grandparents' house is strange. Luckily, certain things seem to hold promise: a new friend who makes her feel connected, and a boy who makes her feel seen. But when her brother starts making poor choices, her friend is keeping her own dangerous secret, and her grandparents put all of their trust in a faith that Serenity isn't sure she understands, it is the power of love that will repair her heart and keep her sure of just who she is.
Renée Watson's stunning writing shines in this powerful and ultimately uplifting novel.
Black is...sisters navigating their relationship at summer camp in Portland, Oregon, as written by Renée Watson.
Black is…three friends walking back from the community pool talking about nothing and everything, in a story by Jason Reynolds.
Black is…Nic Stone's high-class beauty dating a boy her momma would never approve of.
Black is…two girls kissing in Justina Ireland's story set in Maryland.
Black is urban and rural, wealthy and poor, mixed race, immigrants, and more—because
there are countless ways to be Black enough. Contributors:
Justina Ireland
Varian Johnson
Rita Williams-Garcia
Dhonielle Clayton
Kekla Magoon
Leah Henderson
Tochi Onyebuchi
Jason Reynolds
Nic Stone
Liara Tamani
Renée Watson
Tracey Baptiste
Coe Booth
Brandy Colbert
Jay Coles
Ibi Zoboi
Lamar Giles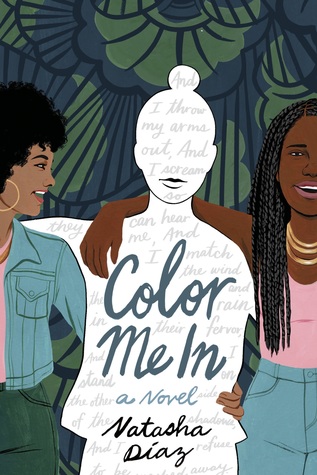 A YA novel based on the author's own story, is about a mixed-race Jewish girl as she faces coming-of-age issues before she has decided who she is and where she fits within her two very different worlds—one in Harlem and the other in Westchester County. Publication is set for spring 2019.
4. Symptoms of a Heart Break
Fresh from med school, sixteen-year-old medical prodigy Saira arrives for her first day at her new job: treating children with cancer. She's always had to balance family and friendships with her celebrity as the Girl Genius—but she's never had to prove herself to skeptical adult co-workers while adjusting to real life-and-death stakes. And working in the same hospital as her mother certainly isn't making things any easier.
But life gets complicated when Saira finds herself falling in love with a patient: a cute teen boy who's been diagnosed with cancer. And when she risks her brand new career to try to improve his chances, it could cost her everything.
It turns out "heartbreak" is the one thing she still doesn't know how to treat.
Jack Ellison King. King of Almost.
He almost made valedictorian.
He almost made varsity.
He almost got the girl . . .
When Jack and Kate meet at a party, bonding until sunrise over their mutual love of Froot Loops and their favorite flicks, Jack knows he's falling—hard. Soon she's meeting his best friends, Jillian and Franny, and Kate wins them over as easily as she did Jack. Jack's curse of almost is finally over.
But this love story is . . . complicated. It is an almost happily ever after. Because Kate dies. And their story should end there. Yet Kate's death sends Jack back to the beginning, the moment they first meet, and Kate's there again. Beautiful, radiant Kate. Healthy, happy, and charming as ever. Jack isn't sure if he's losing his mind. Still, if he has a chance to prevent Kate's death, he'll take it. Even if that means believing in time travel. However, Jack will learn that his actions are not without consequences. And when one choice turns deadly for someone else close to him, he has to figure out what he's willing to do—and let go—to save the people he loves.
Siblings Liv and Jory Brewer have grown up resenting one another. Liv—former pageant queen and reality-TV star—was groomed for a life in the spotlight, while her older brother Jory, born with a partial facial paralysis, was left in the shadows. The only thing they have in common is contempt for their parents.
Now Liv is suing her mom and dad for emancipation, and Jory views the whole thing as yet another attention-getting spectacle. But on the day of the hearing, their parents mysteriously vanish, and the siblings are forced to work together. Liv feels certain she knows where they are and suspects that Jory knows more than he's telling . . . which is true.
What starts as a simple overnight road trip soon takes a turn for the dangerous and surreal. And as the duo speeds through the deserts of Nevada, brother and sister will unearth deep family secrets that force them to relive their pasts as they try to retain a grip on the present.
Told from the split viewpoints of Liv and Jory,
What We Buried
is a psychological thrill ride that deftly explores how memories can lie, how time can bend, and ultimately, how reconciling the truth can be a matter of life or death.
Ever since she got pregnant freshman year, Emoni Santiago's life has been about making the tough decisions—doing what has to be done for her daughter and her abuela. The one place she can let all that go is in the kitchen, where she adds a little something magical to everything she cooks, turning her food into straight-up goodness.
Even though she dreams of working as a chef after she graduates, Emoni knows that it's not worth her time to pursue the impossible. Yet despite the rules she thinks she has to play by, once Emoni starts cooking, her only choice is to let her talent break free.
Set in a horrifying near-future United States, seventeen-year-old Layla Amin and her parents are forced into an internment camp for Muslim American citizens.
With the help of newly made friends also trapped within the internment camp, her boyfriend on the outside, and an unexpected alliance, Layla begins a journey to fight for freedom, leading a revolution against the internment camp's Director and his guards.
Heart-racing and emotional, Internment challenges readers to fight complicit silence that exists in our society today.
Aristotle and Dante Discover the Secrets of the Universe meets Code Name Verity in this heartbreaking and poignant historical thriller.
James Mills isn't sure he can forgive his parents for dragging him away from his life, not to mention his best friend and sister, Anna. He's never felt so alone.
Enter Tomas. Falling for Tomas is unexpected, but sometimes the best things in life are.
Then their world splits apart. A war that has been brewing finally bursts forward, filled with violence, pain, and cruelty. James and Tomas can only rely on each other as they decide how far they are willing to go―and who they are willing to become―in order to make it back to their families.
10. I Wish You All the Best
When Ben De Backer comes out to their parents as nonbinary, they're thrown out of their house and forced to move in with their estranged older sister, Hannah, and her husband, Thomas, whom Ben has never even met. Struggling with an anxiety disorder compounded by their parents' rejection, they come out only to Hannah, Thomas, and their therapist and try to keep a low profile in a new school.
But Ben's attempts to survive the last half of senior year unnoticed are thwarted when Nathan Allan, a funny and charismatic student, decides to take Ben under his wing. As Ben and Nathan's friendship grows, their feelings for each other begin to change, and what started as a disastrous turn of events looks like it might just be a chance to start a happier new life.
At turns heartbreaking and joyous, I Wish You All the Best is both a celebration of life, friendship, and love, and a shining example of hope in the face of adversity.
You must be strong enough to strike and strike and strike again without tiring.
The first lesson is to make yourself strong.
After the jaw-dropping revelation that Oak is the heir to Faerie, Jude must keep her younger brother safe. To do so, she has bound the wicked king, Cardan, to her, and made herself the power behind the throne. Navigating the constantly shifting political alliances of Faerie would be difficult enough if Cardan were easy to control. But he does everything in his power to humiliate and undermine her even as his fascination with her remains undiminished.
When it becomes all too clear that someone close to Jude means to betray her, threatening her own life and the lives of everyone she loves, Jude must uncover the traitor and fight her own complicated feelings for Cardan to maintain control as a mortal in a Faerie world.
12. Children of Virtue and Vengeance
After battling the impossible, Zélie and Amari have finally succeeded in bringing magic back to the land of Orïsha. But the ritual was more powerful than they could've imagined, reigniting the powers of not only the maji, but of nobles with magic ancestry, too.
Now, Zélie struggles to unite the maji in an Orïsha where the enemy is just as powerful as they are. But when the monarchy and military unite to keep control of Orïsha, Zélie must fight to secure Amari's right to the throne and protect the new maji from the monarchy's wrath.
With civil war looming on the horizon, Zélie finds herself at a breaking point: she must discover a way to bring the kingdom together or watch as Orïsha tears itself apart.
Children of Virtue and Vengeance is the stunning sequel to Tomi Adeyemi's New York Times bestselling debut Children of Blood and Bone, the first title in her Legacy of Orïsha trilogy.
Sisters Lu and Min have always understood their places as princesses of the Empire. Lu knows she is destined to become the dynasty's first female ruler, while Min is resigned to a life in her shadow. Then their father declares their male cousin Set the heir instead—a betrayal that sends the sisters down two very different paths.

Determined to reclaim her birthright, Lu goes on the run. She needs an ally—and an army—if she is to succeed. Her quest leads her to Nokhai, the last surviving wolf shapeshifter. Nok wants to keep his identity secret, but finds himself forced into an uneasy alliance with the girl whose family killed everyone he ever loved…

Alone in the volatile court, Min's hidden power awakens—a forbidden, deadly magic that could secure Set's reign…or allow Min to claim the throne herself. But there can only be one Emperor, and the sisters' greatest enemy could turn out to be each other.
Alright friends, I can literally do this all day but eventually you have to put down the pen. 2019 looks like it's full of greatness and I can't wait to take it all in. What are you looking forward to this year???