I think I've mentioned this from time to time, but for the last year I've been on a book award committee. Honestly I didn't count up how many books we read but it was somewhere in the realm of 80. I was so glad to be chosen but OMG it took up so much of my time. Every three months or so we got another list of books to read. Every list was a little longer than the last and while there were diverse books on the list, it's not like it was 50/50 so I tried to squeeze in some diverse reads for this blog but it wasn't easy.
That being said today was MY LAST MEETING!!!! I'm free!! I can read whatever I want and BOY do I have a list. I'm so overwhelmed with my freedom that I've only been able to watch Investigation Discovery all day. It's like I'm afraid of my books. But I promise I'll get over that like... tonight. So here are the books on my coffee table right now that I can't wait to start.
Tight: Lately, Bryan's been feeling it in all kinds of ways . . .
Bryan knows what's tight for him--reading comics, drawing superheroes, and hanging out with no drama. But drama is every day where he's from, and that gets him tight, wound up.
And now Bryan's friend Mike pressures him with ideas of fun that are crazy risky. At first, it's a rush following Mike, hopping turnstiles, subway surfing, and getting into all kinds of trouble. But Bryan never really feels right acting so wrong, and drama really isn't him. So which way will he go, especially when his dad tells him it's better to be hard and feared than liked?
But if there's one thing Bryan's gotten from his comic heroes, it's that he has power--to stand up for what he feels . . .
Torrey Maldonado delivers a fast-paced, insightful, dynamic story capturing urban community life. Readers will connect with Bryan's journey as he navigates a tough world with a heartfelt desire for a different life.
In partnership with We Need Diverse Books, thirteen of the most recognizable, diverse authors come together in this remarkable YA anthology featuring ten short stories, a graphic short story, and a one-act play from Walter Dean Myers never before in-print.
Careful--you are holding fresh ink. And not hot-off-the-press, still-drying-in-your-hands ink. Instead, you are holding twelve stories with endings that are still being written--whose next chapters are up to you.
Because these stories are meant to be read. And shared.
Thirteen of the most accomplished YA authors deliver a label-defying anthology that includes ten short stories, a graphic novel, and a one-act play. This collection will inspire you to break conventions, bend the rules, and color outside the lines. All you need is fresh ink.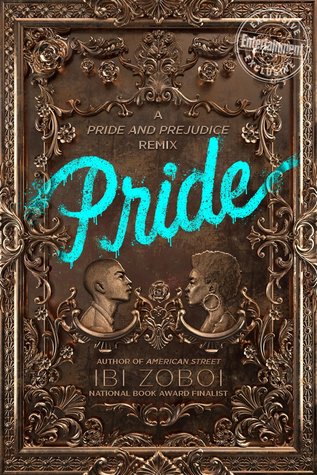 Zuri Benitez has pride. Brooklyn pride, family pride, and pride in her Afro-Latino roots. But pride might not be enough to save her rapidly gentrifying neighborhood from becoming unrecognizable.

When the wealthy Darcy family moves in across the street, Zuri wants nothing to do with their two teenage sons, even as her older sister, Janae, starts to fall for the charming Ainsley. She especially can't stand the judgmental and arrogant Darius. Yet as Zuri and Darius are forced to find common ground, their initial dislike shifts into an unexpected understanding.

But with four wild sisters pulling her in different directions, cute boy Warren vying for her attention, and college applications hovering on the horizon, Zuri fights to find her place in Bushwick's changing landscape, or lose it all.

In a timely update of Jane Austen's Pride and Prejudice, critically acclaimed author Ibi Zoboi skillfully balances cultural identity, class, and gentrification against the heady magic of first love in her vibrant reimagining of this beloved classic.
They killed my mother.
They took our magic.
They tried to bury us.
Now we rise.
Zélie Adebola remembers when the soil of Orïsha hummed with magic. Burners ignited flames, Tiders beckoned waves, and Zélie's Reaper mother summoned forth souls.
But everything changed the night magic disappeared. Under the orders of a ruthless king, maji were killed, leaving Zélie without a mother and her people without hope.
Now Zélie has one chance to bring back magic and strike against the monarchy. With the help of a rogue princess, Zélie must outwit and outrun the crown prince, who is hell-bent on eradicating magic for good.
Danger lurks in Orïsha, where snow leoponaires prowl and vengeful spirits wait in the waters. Yet the greatest danger may be Zélie herself as she struggles to control her powers and her growing feelings for an enemy.
These are at the top of my list. But I also just found like three books about pirates and mermaids sooooo... I'm going to be all over the place. I also just started watching Anime again. I have so much freedom!!! Anyway, reviews will return, Readers Advisory will return, and we'll get back to business as usual.