Here we are again folk. I'm just kind of having fun putting these together. I mean, eventually I'm probably going to start repeating genres but this has been a fun exercise. So this week we're just going to do all encompassing contemporary novels. I get asked for a lot of "normal every day " books by kids. Sometimes they don't know if they want mysteries, romance, coming of age, then only know they don't like dragons (I had someone tell me that once). The book world is doing a better job of providing us with diverse contemporary novels. It's not quite perfect yet, especially with regards to books that portray black girls, but I've seen definite progress, which is always a good thing!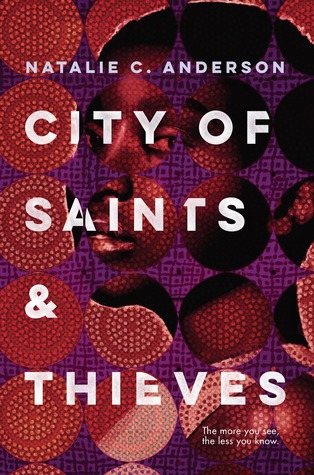 In the shadows of Sangui City, there lives a girl who doesn't exist. After fleeing the Congo as refugees, Tina and her mother arrived in Kenya looking for the chance to build a new life and home. Her mother quickly found work as a maid for a prominent family, headed by Roland Greyhill, one of the city's most respected business leaders. But Tina soon learns that the Greyhill fortune was made from a life of corruption and crime. So when her mother is found shot to death in Mr. Greyhill's personal study, she knows exactly who's behind it.
With revenge always on her mind, Tina spends the next four years surviving on the streets alone, working as a master thief for the Goondas, Sangui City's local gang. It's a job for the Goondas that finally brings Tina back to the Greyhill estate, giving her the chance for vengeance she's been waiting for. But as soon as she steps inside the lavish home, she's overtaken by the pain of old wounds and the pull of past friendships, setting into motion a dangerous cascade of events that could, at any moment, cost Tina her life. But finally uncovering the incredible truth about who killed her mother—and why—keeps her holding on in this fast-paced nail-biting thriller.
Matthew Corbin suffers from severe obsessive-compulsive disorder. He hasn't been to school in weeks. His hands are cracked and bleeding from cleaning. He refuses to leave his bedroom. To pass the time, he observes his neighbors from his bedroom window, making mundane notes about their habits as they bustle about the cul-de-sac.

When a toddler staying next door goes missing, it becomes apparent that Matthew was the last person to see him alive. Suddenly, Matthew finds himself at the center of a high-stakes mystery, and every one of his neighbors is a suspect. Matthew is the key to figuring out what happened and potentially saving a child's life... but is he able to do so if it means exposing his own secrets, and stepping out from the safety of his home?
When Suzette comes home to Los Angeles from her boarding school in New England, she isn't sure if she'll ever want to go back. L.A. is where her friends and family are (along with her crush, Emil). And her stepbrother, Lionel, who has been diagnosed with bipolar disorder, needs her emotional support.

But as she settles into her old life, Suzette finds herself falling for someone new...the same girl her brother is in love with. When Lionel's disorder spirals out of control, Suzette is forced to confront her past mistakes and find a way to help her brother before he hurts himself--or worse.
Just when seventeen-year-old Matt thinks he can't handle one more piece of terrible news, he meets a girl who's dealt with a lot more—and who just might be able to clue him in on how to rise up when life keeps knocking him down—in this wry, gritty novel from the author of
When I Was the Greatest
.
Matt wears a black suit every day. No, not because his mom died—although she did, and it sucks. But he wears the suit for his gig at the local funeral home, which pays way better than the Cluck Bucket, and he needs the income since his dad can't handle the bills (or anything, really) on his own. So while Dad's snagging bottles of whiskey, Matt's snagging fifteen bucks an hour. Not bad. But everything else? Not good. Then Matt meets Lovey. She's got a crazy name, and she's been through more crazy than he can imagine. Yet Lovey never cries. She's tough. Really tough. Tough in the way Matt wishes he could be. Which is maybe why he's drawn to her, and definitely why he can't seem to shake her. Because there's nothing more hopeful than finding a person who understands your loneliness—and who can maybe even help take it away.
"This is my spot," Naomi said. "You can't help but dream up here. I'm going to take my baby sis up here when she's older so she can dream, too. You can see the whole world from up here."

I could only see Naomi.
Walter Wilcox has never been in love. He just wants to finish high school under the radar with his 2.5 friends and zero drama. And then there's Naomi Mills, an adorably awkward harpist with a habit of saying the wrong thing at the right time.
It's inevitable that they're going to get together…but they're also on the unavoidable path to being torn apart.
A lot of these books have a romance angle, some have an LGBT angle, cultural differences, and that's what I love about the contemporary category. Aside from a lack of dragons (as one kid put it) contemporary books are almost limitless!!